College Students & Graduates
Let's Get Started
Put education into practice and start your career at Pike Nurseries. If you love working with people and are ready to become a strong leader/coach you're a perfect fit! Business or horticulture majors are strongly encouraged to apply.
We actively seek college graduates for our manager trainee program, department head positions and more. We're visiting local universities, visit us on LinkedIn or Follow us on Twitter for announcements on where we will be next.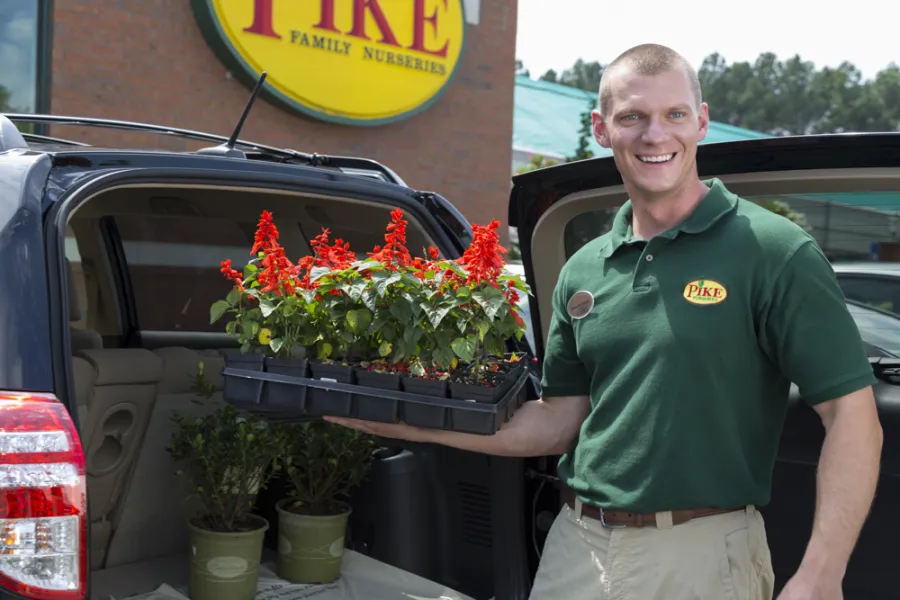 Deep Rooted History
As a company that started in 1889, we've got some deep roots. We've focused our energy in four areas: quality, selection, knowledge and service and because of this strong foundation, our business continues to grow. Today, we're the largest independent garden center in the U.S. and look forward to continuing to serve our communities for decades to come.
Community-based
Our fellow employee-owners live in the communities we work. From PTA meetings to the produce department at the grocery store - you'll see us out and about. We also strive to support gardening efforts and knowledge throughout the community through community garden talks and free classes.
Vertically Integrated
We live our brand promise of taking the guesswork out of gardening through our vertical integration. In addition to our retail nurseries; we offer landscape design and installation and grow many of the plants we sell. Our wholesale growing division offers an opportunity to see the other side of the business. From testing new introductions, to production timelines and sales - we've got a lot going on.
Don't Know Plants?
No problem. We offer extensive classroom and hands-on learning to prepare you for daily interactions with customers. From introductory to more advanced courses, we offer extensive classroom and hands-on learning to prepare you so we continue our tradition of horticultural excellence. You're also surrounded by some of the industries best horticulture experts and they started exactly where you are right now.
Love Plants?
Great! You'll continue learning something new each and every day - a new variety or species, new disease or maybe a new intruder. We'll provide timely information on new products, diseases and insects to make sure you're up to speed. Along with plant knowledge, we're focused on developing for the future. It's definitely not just a job at Pike Nurseries but we're here to develop a long-term career. We'll support your management development along with a solid understanding of running a garden center day today.