Recipe
About Mint 'Chocolate'
This mint variety sports purplish-brown stems that contrast nicely with the green leaves and has a delightful fragrance that calls to mind the flavor of a mint chocolate candy. A great choice for cocktails, desserts, and even homemade mint chocolate chip ice cream. Mint plants can tolerate less light than some other herbs and can be planted in full sun to partial shade environments. Mint can quickly take over in a garden or in a pot with other plants (this variety can spread up to 2 feet), so it's best to grow it in a container by itself where its size can be managed. Use Pike Potting Soil for all potted plants. Water regularly and fertilize monthly with Dr. Earth Homegrown organic fertilizer for tomatoes, vegetables, and herbs.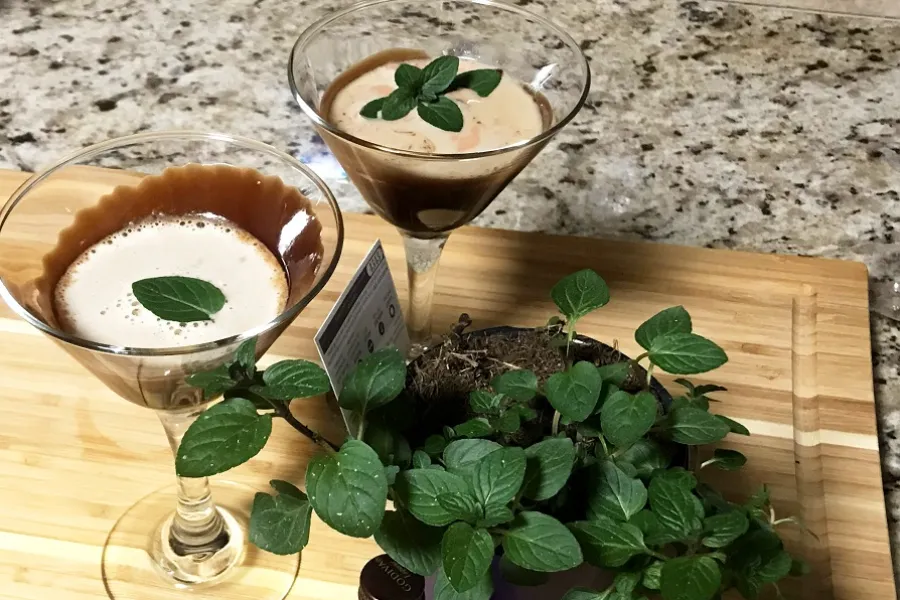 Instructions
Tear the mint leaves and gently muddle them. You can muddle them in your cocktail shaker with a muddler tool, or use a mortar and pestle and then transfer the basil to the shaker. Be gentle as you muddle. If you crush mint leaves too much, the flavor can turn bitter.
Add vodka to the shaker, chocolate liqueur, and ice, and shake to chill and blend flavors.
Lightly pour chocolate sauce around the inside rim of the martini glass while you rotate the glass. (Optional: Add a liquor-soaked cherry or maraschino cherry to the bottom of the martini glass for a fun finish to the drink.)
Strain the blended mint vodka and chocolate liqueur into the glass. Garnish with a fresh mint leaf, gently pinched to release its fragrance. Enjoy!
Tip: If you have more time, try infusing the vodka with the mint for a more pronounced flavor. Infusing takes at least 5 days and an air-tight container. If you don't have that kind of time, the muddling process will still work; just be sure to use enough mint leaves (the chocolate liqueur can overpower the mint flavor if you don't).
Ingredients
10 Mint 'Chocolate' leaves

1.5 ounces of chocolate liqueur (1 shot)

1.5 ounces of vodka (1 shot)

Chocolate sauce

Liquor-soaked cherry (optional)

Ice
Other Tools Needed
Cocktail shaker
Shot glass

Muddler or mortar and pestle

Martini glass

Extra cup