DIY
Winter Foliage Container
Winter Foliage Container
Partial Sun Project

Step 1: Choose a tall container with an opening that is at least 14 inches wide. Use a pot with a drainage hole for best watering practices.
Step 2: Fill about 2/3 of the container with Pike Potting & Container Soil. Place a coffee filter over the drainage hole first to prevent dirt from spilling out.
Step 3: Mix in 3/4 of a cup of Dr. Earth's Root Zone organic starter fertilizer. This helps prevent transplant shock and gives new plants a jumpstart on growth.
Step 4: Place the small arborvitae in the center/back of the container as the "thriller."
Step 5: Place the helleborus (aka lenten rose) and the purple leucothoe next to the arborvitae.
Step 6: Add more soil around the root balls of the larger arborvitae, helleborus and leucothoe so the remaining smaller plants won't sink too far down into the pot.
Step 7: Plant the pansy and the variegated pachysandra around the larger plants as "fillers."
Step 8: Add the carex grass as the "spiller" close to the container edge.
Step 9: Fill in any spaces with potting soil as needed and then water in everything. Water at the soil level (never overhead - this encourages disease). When water starts to drain from the bottom stop and let the pot drain completely. You're done!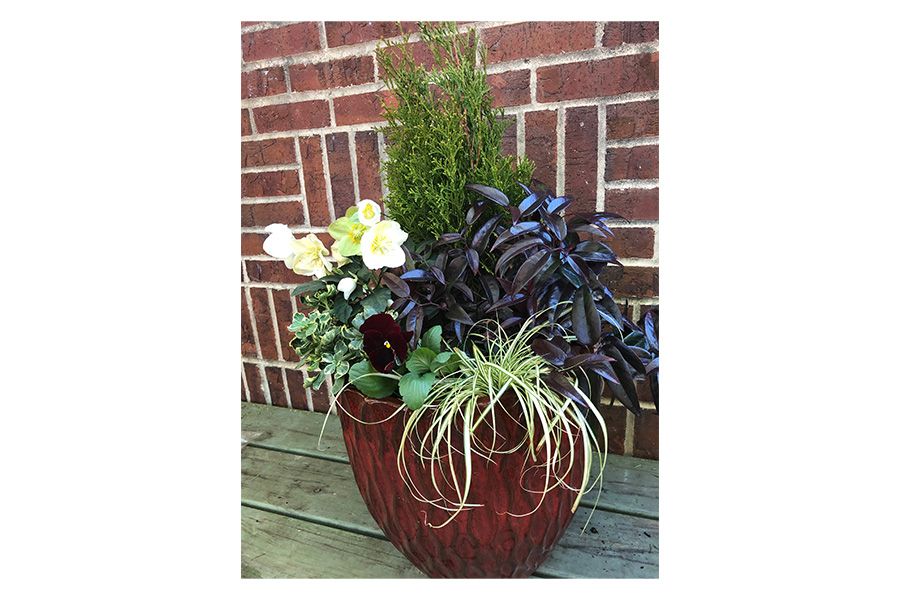 About Some of the Plants
In This Container
Arborvitae is an evergreen conifer that will eventually reach 15 feet tall (over many years).
You can enjoy it for a long time in a mixed container, and once it grows larger you can move it to a pot by itself (great choice for a topiary) or plant it in your yard.
Helleborus is a perennial flower with evergreen foliage.
Once the blooms are done for the season, you can keep the plant in the pot as a foliage filler, or transplant it to a shady spot in your yard and enjoy its blooms next winter.
Leucothoe is a low-growing small shrub often used as a groundcover.
It has stunning winter foliage (as you can see) and produces drooping clusters of blooms in spring.
As it grows larger you can transfer it to a larger mixed container or place it in a partial shade area of your yard, like under a tree.
Shopping List
1 - Helleborus 'Pink Marble' 1 gal.
1 - Arborvitae 'Emerald Green' 6 inch
1 - Leucothoe (aka Fetterbush) 'Scarletta'® 1 gal.
1 - Red Pansy, 3.5 inch
1 - Carex Grass 'Evergold' 4 inch
1 - Variegated Pachysandra 'Silver Edge' 3.5 inch
1 - Bag of Pike Potting & Container Soil 8 qt.
1 - Bag of Dr. Earth Root Zone organic starter fertilizer 4lb.