Recipe
Southerners love grilled pork belly. These skewers are perfect for parties as an appetizer or on a buffet. Use garden fresh tomatoes for a more intense flavor. Enjoy skewers as-is or with your favorite dipping sauce.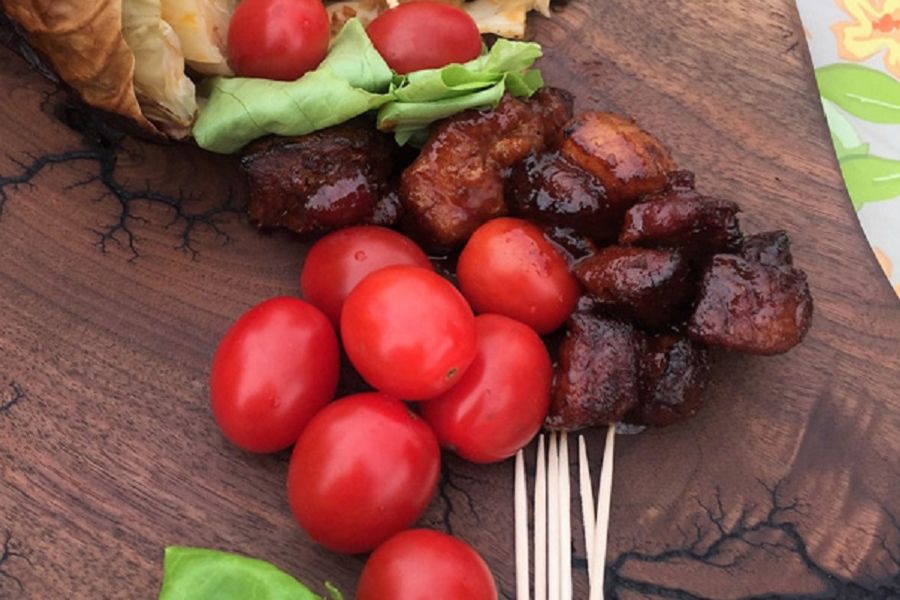 Instructions
Stabilize smoker at 250 degrees F.
Cut pork belly into roughly 1-inch pieces.
Cover pork belly with barbecue rub, then keep refrigerated until ready to smoke.
Using smoke deflectors, smoke pork belly for 3 hours.
Pull pork from smoker and place in an oven-safe pan.
Cover pork belly with your favorite barbecue sauce.
Cover pan and place back on the smoker for 90 minutes.
Uncover and cook for an additional 15 minutes.
Add pork belly, tomatoes, and lettuce to skewers.
Ingredients
From the Garden
Bibb lettuce
Cherry tomatoes
From the Market and Pantry
Heritage Farms Cheshier Pork Belly, with skin removed
Favorite barbecue rub
Favorite barbecue sauce
Skewers