Spring Herb, Asparagus, and Goat Cheese Frittata
Recipe
This is a great back-pocket recipe for any gardener.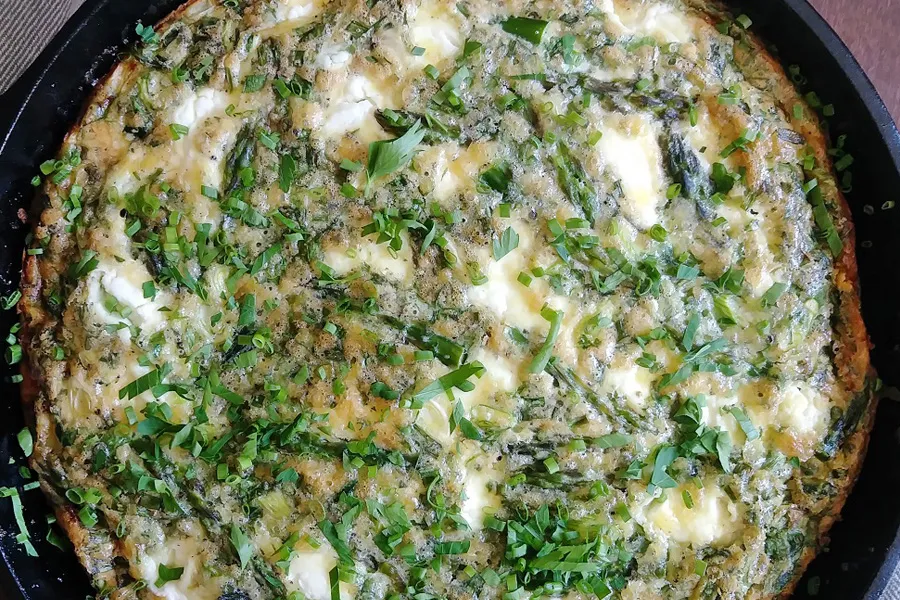 Instructions
Preheat oven to 375 degrees F.
Bring two quarts of water to a boil.
Fill a medium-size bowl with ice and water.
Snap the tough ends off the bottoms of your asparagus (usually about 2 inches). Blanch the asparagus in the boiling water for 45 seconds, then immediately shock in ice water.
Whisk together eggs, cream, scallions, herbs, salt, and pepper.
Remove asparagus from the ice water and dry it. Then, cut the asparagus into 2 inch long pieces, keeping the tops separate.
Place a 12 inch cast iron or nonstick pan on the stovetop on medium heat. Add the butter and coat all sides. Pour the egg mixture into the pan.
Then, reserving the asparagus tops, place the other pieces into the egg.
Next, crumble the goat cheese in large quarter-sized chunks into the egg, as well.
Lastly, add the asparagus tops. Move the pan to the oven and bake for 20 minutes. The eggs should be lightly golden on top, firm, and slightly puffy in the center.
Tip: If you do not have scallions, use leeks or shallots. Or, if you do not have asparagus, use roasted peppers or sweet potatoes. If you have some beautiful basil, put it in, as well. This is a great back-pocket recipe for any gardener; use it as a base then let the season be your guide.
Ingredients
12 large eggs

1/2 cup of heavy cream

1 bunch of asparagus

6 ounces of goat cheese

3 scallions (greens and whites), thinly sliced

1/4 cup of parsley, chopped

2 tablespoons of mint, dill, or tarragon; chopped
1/4 cup of chives, chopped

1 and 1/2 teaspoon of salt

1/4 teaspoon of black pepper

1 tablespoon of butter