A classic with an herbal flair
Classic Herb Stuffing
You're sure to impress your friends and family this Thanksgiving with fresh, garden flavor! Make it truly garden-to-table by using herbs straight from the garden. Plant evergreen herbs like rosemary, sage, thyme, and oregano for year-round flavor. Garden fresh herbs will bring out more flavor and aroma in all of your holiday recipes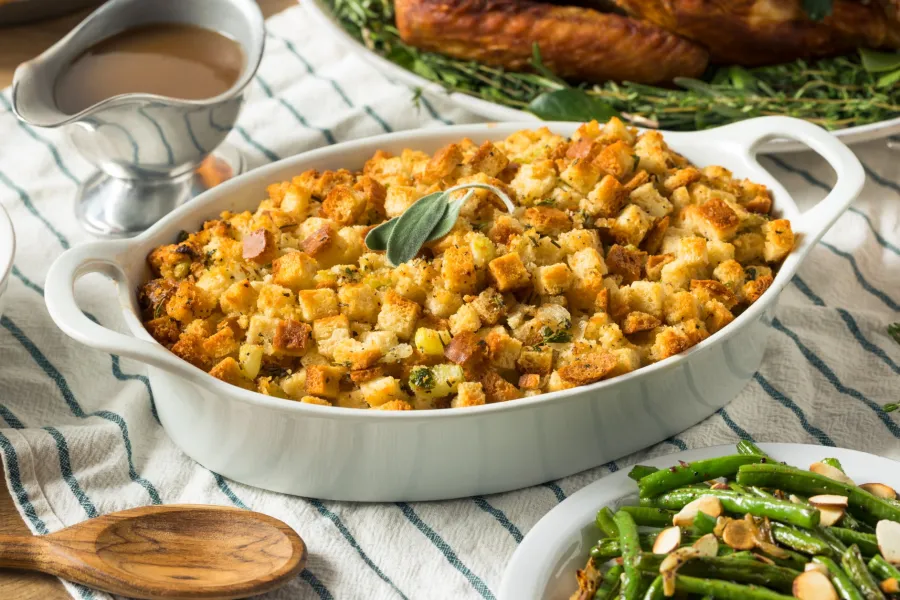 Instructions
Cover baking sheet with aluminum foil and bake cubed bread at 250 degrees for an hour until crisp and let cool.

Melt butter in a skillet and add onion and celery until soft.

In a large mixing bowl, add bread, celery, and onions and mix until combined.

Next, add parsley, sage, rosemary, thyme, salt, and pepper and toss again.

In a small mixing bowl, whisk together eggs and chicken stock.

Pour egg mixture into the bread mixture, and toss until well combined.

Pour everything into a well-greased 9 x 13 casserole dish, cover with aluminum foil, and bake at 350 degrees for 30 minutes.

Remove aluminum foil and bake for another 20 minutes or until crispy and golden brown.

Remove from oven, let cool slightly, and garnish with fresh-cut herbs.
Ingredients
1 French baguette cut into 1" pieces
3/4 cup salted butter
1 large onion, chopped
4 stalks celery, chopped
1/2 cup parsley chopped
2 Tablespoons fresh sage, chopped
1 Tablespoon rosemary, chopped
1 Tablespoon fresh thyme, chopped
2 teaspoons salt
1 teaspoon pepper
1.5 cups chicken stock or broth (or veggie stock if you're vegetarian)
2 eggs