Recipe
Ratatouille

It sounds like a complicated French dish, but really it's just a simple summer casserole with a beautiful presentation. It does take a little time, but the results are well worth it! Using a plethora of tomatoes, squash, eggplant, zucchini, and herbs harvested from your summer garden, this dish is sure to impress at your next cookout or potluck. It can be scaled up or down depending on your pan size (or harvest size). Bon appetit!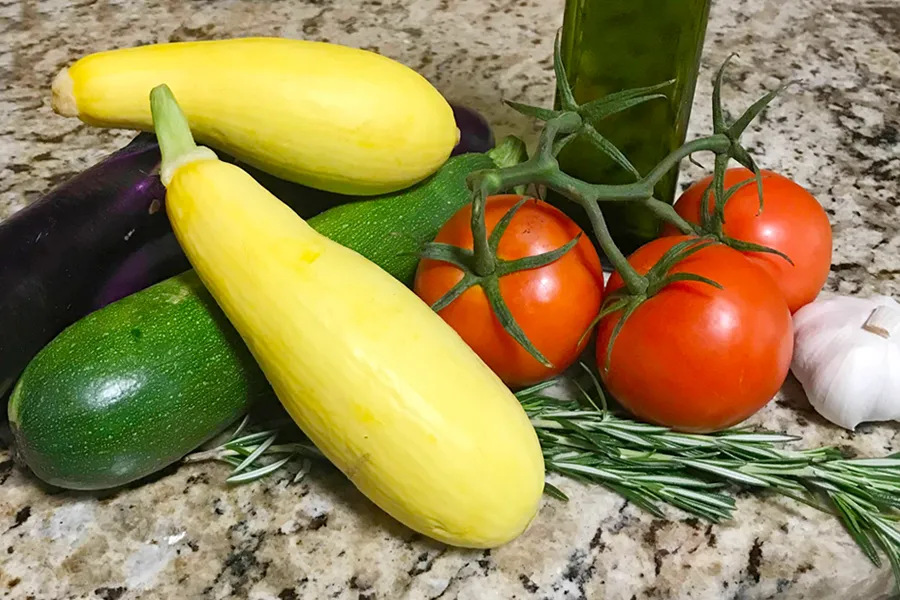 Instructions
Blend 4 tomatoes, a small onion, 2 cloves of garlic, and fresh rosemary (1 sprig, stem removed) in a food processor. Simmer in a sauce pan for 30 mins to 1 hour to make marinara sauce while you prepare your veggies. Alternatively, you can use premade sauce for quicker prep time.
Slice eggplant, zucchini, squash and tomatoes into even slices about ¼" thick. A mandolin slicer or the slicer tool on your food processor can help speed up this process. If you do it by hand, be patient and take your time to get even slices. For a 13x9" dish, you'll need 1 large Chinese eggplant (skinny type), 1 large zucchini, 3 medium tomatoes, and 2-3 medium squash. The goal is to get evenly-sized slices. If you have the rounder eggplant variety, you'll need to cut it down to get slices roughly the same size as your other veggies. Drizzle veggie slices with olive oil and season with salt, pepper, 1-2 cloves crushed garlic, and fresh or dried Italian herbs as desired (thyme, oregano, sage).
Ladle the marinara sauce into the bottom of your baking dish. Add the veggie slices to the pan, in alternating layers. For a square or rectangular pan, set the slices on their sides and make rows. For a round pan, tilt the slices and layer them in a swirl for a beautiful effect.
Top with the rest of the fresh rosemary and bake on 375 for 45 minutes. The fresh tomatoes and veggies have a lot of liquid; you'll need the long cook time to evaporate the liquid and get a nice thick casserole. Add ¼ cup shredded parmesan and return to the oven for 10-15 minutes to melt the cheese. Serve hot garnished with a fresh shredded basil.
Ingredients
6-8 Tomatoes, medium, firm
2-3 Yellow Squash, medium
1 Zucchini, large
1 Chinese Eggplant (long, skinny type)
3 sprigs fresh Rosemary
3-4 cloves Garlic
1 onion, small (or half a large)
¼ cup shredded Parmesan cheese
2-3 tbsp Olive Oil
Italian Herbs (thyme, oregano, sage), dried or fresh
2-3 sprigs fresh Basil, chiffonade
Salt & pepper to taste

Other Tools Needed

Food processor
Mandolin slicer or good knife for slicing
Baking Dish, 13x9" recommended
Sauce pan