Tomato Jam with Rosemary Cookies
Recipe
Our tomato jam is buttery, but not too sweet, filled wonderful texture, and perfected with the surprising hint of rosemary. This jam and cookie recipe takes a unique twist on classic shortbread cookies.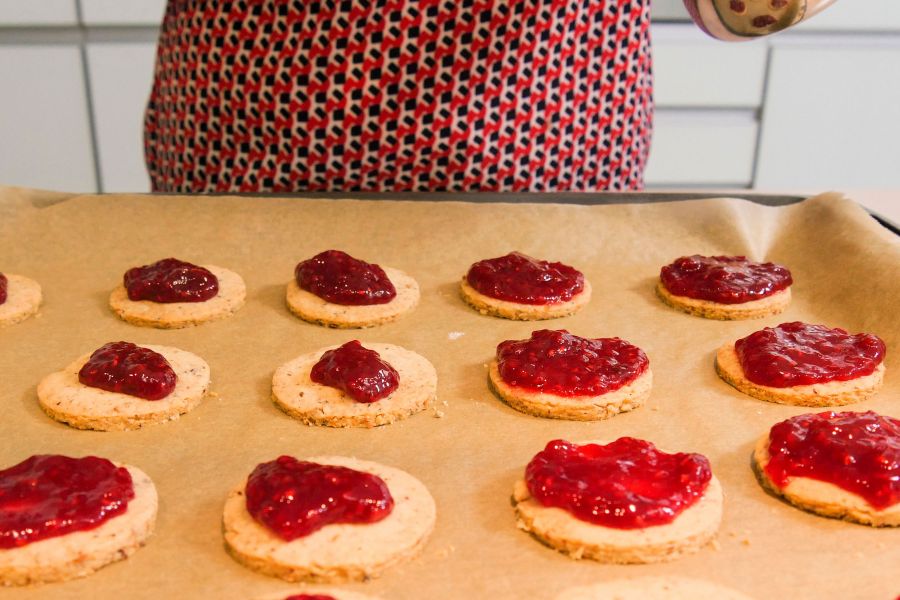 Instructions
In a small bowl, whisk together flour, cornmeal, and salt.
Using a stand mixer fitted with the paddle attachment, beat together the butter and sugar on medium speed until smooth. Beat ingredients by hand if you do not have a mixer. Mix in the egg yolks and rosemary.
Add the flour mixture and mix until the dough is smooth and holds together.
On a lightly floured work surface, divide the dough in half. Shape each half into a log about 6 inches long and 1 and 3/4 inches in diameter. Wrap the logs in a plastic wrap and refrigerate until chilled and firm. This should take at least 1 hour.
Position racks in the upper and lower thirds of the oven; preheat the oven to 350 degrees F and line 2 baking sheets with parchment paper or silicone baking mats.
Slice the logs into disks 1/4 inch thick, and place the disks about 1/2 inch apart on the prepared baking sheets.
Bake for about 12 minutes or until the edges of the cookies are lightly browned, rotating the baking sheet midway through. Let cool completely.
Spread a scant 1 and 1/2 teaspoons of the jam on the underside of half the cookies.
Ingredients
2 cups of all-purpose flour
1/4 cup of stone ground yellow cornmeal or polenta
1/2 teaspoon of salt
1 cup of unsalted butter, room temperature
10 tablespoons of sugar
2 large egg yolks
1 and 1/2 tablespoons of fresh rosemary leaves, finely chopped
1 pint of McCutcheon's Tomato Jam (raspberry jam is a great substitute, as well)